KUNSTSODA #1 proudly presents Scandinavian artists Marius Martinussen, Painting and Prints, Katinka Goldberg , Photography, Lena Walton Herfindal , Body Sculpture, Aron Li , Jewellery and Dutch Design by Dieter Volkers. August 9th 2014 the Pop-Up gallery KUNSTSODA launched at Nordregate 20 / Grûnerløkka. In the beginning of August NG20 will be the main venue for Oslo Trend . Later on it will be the New Fashion and Design Hub of Oslo hosting among others Designerkollektivet. KUNSTSODA will promote established and emerging artists from the Contemporary Art scene merged with Design and Craft talents.  https://www.facebook.com/Kunstsoda?ref_type=bookmark https://www.facebook.com/NordreGate20PopUp?fref=ts http://www.oslotrend.no/ 

I was so fortunate as to be part of the organization of H.H Dalai Lama's visit to Oslo in May 2014. As the event coordinator at the Public Talk at Folketeateret , I was responsible for all logistics concerning what went on at the stage, backstage and Public Areas. It was a very special event to be part of, working closely with so many fantastic and dedicated people to make His Holiness Dalai Lama's visit a success. http://dalailamaoslo.no

Klosterkroa : Interior Design: Klosterkroa at Hovedøya has recently opened after renovation. This building was originally built in 1940 as an officer's mass as the island was a military camp during the war. Since then it has served as a postoffice, shop and various restaurant concepts. The windows on the walls opens up to the greenery outside, giving the room a true summer feeling. The original benches where kept to give the room character, the rest of the furniture was sourced from fleamarkets and vintage stores. Almost all the same same but different wooden chairs around the tables where painted white, while the metal chairs donated from another house at the island where painted in "Oslo Blue ". Since the flowers on Hovedøya are protected, one wall is adorned with porcelain plates with flower motives surrounding the "Don't pick flowers " sign. This friendly reminder will hopefully make the guests treat the island with respect so the magic of Hovedøya can be preserved.  http://www.eiendoms-og-byfornyelsesetaten.oslo.kommune.no/article278184-5436.html http://www.osloby.no/nyheter/Klosterkroa-apner-i-ny-drakt-7566716.html#.U95c0uY4XtQ

Drømmenes Reiser (Dream Journeys) by Per Krohg was originally commissioned for the Dining Room at M/S Bergensfjord, which sailed for Den Norske Amerika Linjen 1956 – 1971. After 40 years in storage, the painting has now a new life onboard Fjord Line's new M/S Bergensfjord. Per Krohg is known to an international public for the mural he created for the United Nations Security Council Chamber, located in the UN building in New York City. Closer to home he is known for his monumental works in Folketeateret , at Seaman's Collage and City Hall of Oslo. Drømmenes Reiser was the last of several commissions Krohg did on ships between 1938 – 1956, and to my knowledge the only one that is preserved.

Other artworks sourced for M/S Bergensfjord include these Screenprints by Tessa Jaray After Malevich.

The Pop Up Space at Maridalsveien 9 is now closed : thanks to all artists, collaborators, and visitors. So much positive feedback! Stay tuned for new Art Adventures in 2014. : ttps://www.facebook.com/pages/Contemporary-Art-Vintage-Bric-%C3%A0-brac/739265296086896 Art pictured above : Photography Marianne Selsjord, Pastel On Paper Karl Hansen, Jewellery Aron Li, Photography Espen Tollefsen and Sculpture cast glass Lars Widenfalk.

On my initiative after my enthusiastic encounter with hybrid fashion collective Painted, Margreet Sweerts just visited Oslo. We had 4 inspiring Golden Joineries at my temporary Art & Vintage space, with students from Oslo National Academy of Arts, Oslo and Akershus  College of Applied Science , in addition to special invitees from the design and fashion world. Margreet Sweerts also gave a lecture about Painted at HIOA, about her and Saskia Van Drimmelen 's body of work. Golden Joinery is new brand that among other things queations the meening of "value", and the development of the brand happens through the Golden Joinery gatherings. I'm looking forward to the next chapter! Interview Margreet Sweerts Personae Magazine: Personae Painted: http://www.freudenthalverhagen.com/?proj=1029  & www.facebook.com/pages/Painted-Series/186636284716954 Left Image :Emmeline De Mooij

Contemporary Art & Vintage Bric à brac. I have just started a space which is both a gallery and a shop: I will show Contemporary Art together with French vintage c/o Nina Banggren. Hopefully this playful way of displaying art will reach a wider audience than the one that normally finds its way into art galleries. The space is situated at Maridalsveien 9, just a roundabout away from Vulkan, an area that have been under construction the last years and hosts Mathallen among other things. On the picture there are works on paper by Karl Hansen, glass by Vidar Koksvik,photography Tone Elin Solholm, Photography Fin Serck-Hanssen. Other artists at the Space are : Asbjørn Hollerud prints on steel, photography Marianne Selsjord, photography Espen Tollefsen, paintings Marius Martinussen, mixed media Maria Ikonomopolou, glass work Kari Håkonsen , sculpture Lars Widenfalk and jewellery by Aron Li .The space will be open until end December, mostly weekdays 10.00- 17.30; weekends 11.00- 17.00 https://www.facebook.com/pages/Contemporary-Art-Vintage-Bric-%C3%A0-brac/739265296086896
Photoshoot at the Pop-Up Space with photographer Evy Andersen. Works featured are by glass artist Vidar Koksvik, mixed media by Maria Ikonomopoulou and Pastel on Paper by  Karl Hansen.

Corporate Headquarters, Oslo. Photography : Espen Tollefsen. Office landscapes might have  challenges in connection to sound, concentration,orientation and privacy. At these Corporate Office Headquarters, Photography has been used to fill the requirements of universal design, and as an added value has created new rooms for concentration and hopefully :  inspiration!
Whoever decides what the book of the year is: this is the book of the year! Content follows form, form follows content. Sirkelsalme: Monica Asbrong: Graphic Design: Aron Kullander-Östling : and also a concert : Maja Ratkje: :http://ratkje.no/2013/08/sirkelsalme-til-betlehem-til-jerusalem-en-konsert/

Seen at Unseen /Amsterdam : Sascha Weidner/Conrads http://www.saschaweidner.de/

 In the spring I participated in a Golden Joinery arranged by Painted, a fashion/design collective led by Fashion Designer Saskia Drimmelen and Theater Director/Designer Margreet Sweerts. http://www.paintedseries.com/  Each participant had to bring a broken garment to be repaired with golden thread and materials, inspired by the old Japanese technique Kintsugi, where they repair broken ceramics with golden paint, thus making the repair visible instead of hidden.I brought my favourite blue sweather inherited from a friend's mother to work on, giving it a new and prolonged life. Through Painted's workshops they are encouraging " an alternative "broken is better than new" aesthetic — that a conspicuous, imaginitive repair actually adds value —  aiming at a more hands-on, repair-friendly culture ". More events will be organized in various places with different people, thus spreading the news and creating a collective brand: Golden Joinery.

Ted Noten,s  "Wanna Swap Your Ring" , was at Format in Oslo, in connection to From The Coolest Cornerhttp://www.coolestcorner.no/ The installation consist of 500 Miss Piggy rings, all placed within the imaginary contours of a handgun. Spectators can obtain a ring made by Noten, by replacing it with an old one of theirs. I know Ted Noten from when he was commissioned to make a piece for Color Fantasy back in 2004 ; his "Mermaids Luggage" is now sailing Oslo- Kiel on a daily basis.  On the sister ship Color Magic, Coffee Cups Wall in Porcelain are in the Private Dining Room. http://www.tednoten.com/

The Art and Decor for Fjord Line's MS Stavangerfjord http://www.fjordline.com/Om-bord/MS-Stavangerfjord/  was selected in close co-operation with  Falkum – Hansen Design. On the upper decks of Forward Stair Terje Roalkvam made a composition of objects. Every object combine's two materials ; stone and aluminum or stone and tree. The stones for the objects have been collected from all over Norway, the wood from Spitzbergen and Oslo. Because of the placement on the upper level below a glass roof, guests can study the objects from a variety of angles and thereby  see the subtle variations and nuances that appear in the objects.

In Grieg Gourmet restaurant acclaimed Sculptors Malcolm Martin and Gaynor Dowling have made two simple and elegant sculptures of gilded lime-wood.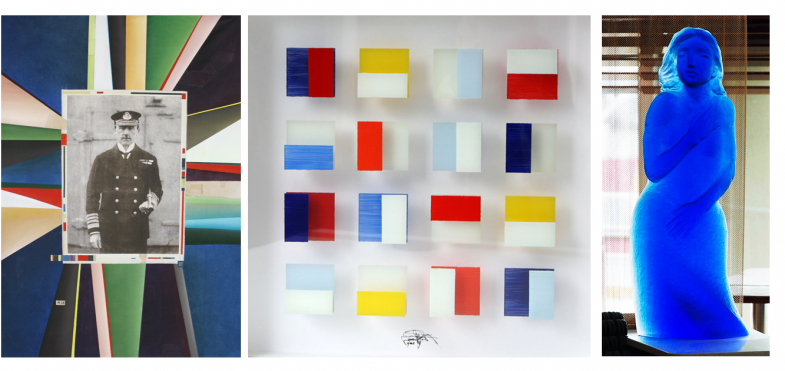 Inspired by the maritime concept, a ship captain greats you in the entrance of Commander Buffet .The starting point for the textile collage by British textile artist Natasha Kerr is antique linen, where found photographs are often included along with other hand-died pieces of fabric collaged together.
The maritime inspiration continues in the glass sculptures made by Lars Widenfalk , Stavangerfjord's own figureheads. Lars Widenfalk normally works in stone, so following the process of the creation of these from the first drafts in clay through the casting and cooling process has been exciting. Equally exciting is it to enjoy how the sculptures changes with the passing of light in the restaurant.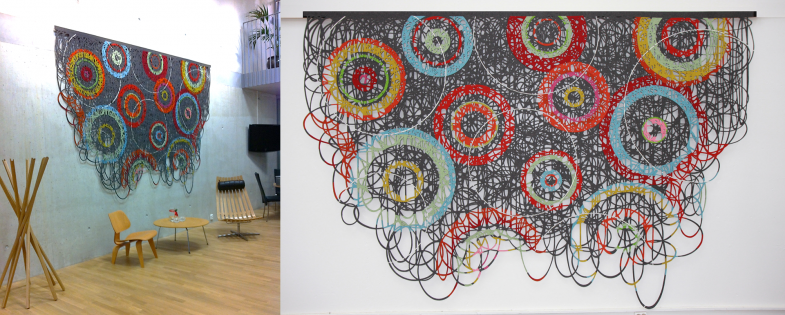 May Bente Aronsen, Resonance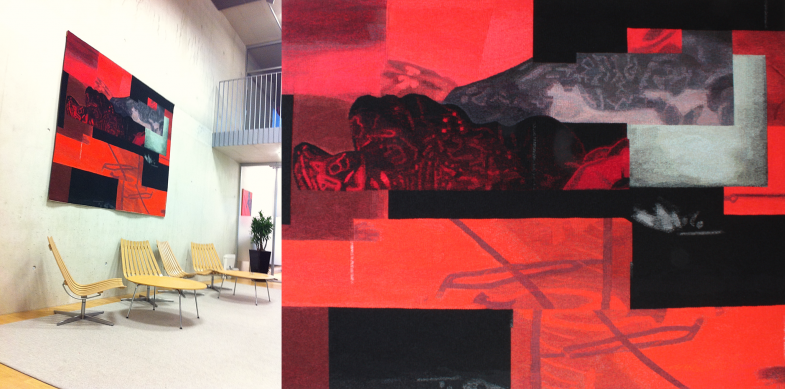 .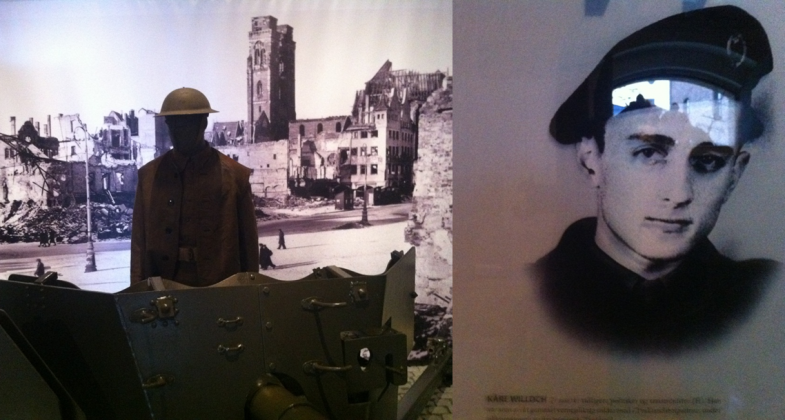 INTOPS , which just opened at the Defence Museum has been created & designed by architects Einar Hjeldnes & Julia Yran at Key Arkitekter http://www.keyarkitekter.no/  in cooperation with artist Guri Dahl.The various spaces in the exhibition have been divided using container walls , placed on the wavy wooden floor, thus dividing the various themes.Displayed are a mix of historical elements , photography, text , video and sound. Containers have also been used to expand the exhibition space into the court yard of the Museum. I was involved in the uniform part of the exhibition, refreshing my old skills as a decorator.
February 2012:

The apartment in Elle Decoration this month  : Art Issue: beautifully photographed by Elisabeth Aarhus. Elle Decoration http://inspirationalspaces.blogspot.com/2011/12/returning-to-art-fascilitator.html.Congratulations to  Norsk Medisinaldepot AS  with the inauguration of their new office and storage building at Alf Bjerkes vei ,Oslo. Architect: Niels Torp Arkitekter www.nielstorp.no

Reception, Photographic Print on Paper. Artist:  Espen Tollefsen Photographic Print on aluminium. Artist : Espen Tollefsen http://espentollefsen.no/
Paris Photo 2011 : got the catalogue with Viviane Sassen's work on the  cover. 3 of her works from the series Flamboya was sourced for RCCL/ Allure of the Seas, among these "Leaf". Check out her awardwinning book Flamboya : http://www.vivianesassen.com/books/flamboya/. For the 55th Venice Biennale International Art Exhibition in 2013,  The Encyclopedic Palace, Viviane Sassen presented Lexicon, an installation of 30 prints. In Amsterdam she was part of the Huis Marseille inaugural Exhibition.http://www.huismarseille.nl/en/exhibition/the-rediscovery-of-the-world-large-inaugural-exhibition-in-a-double-sized-huis-marseille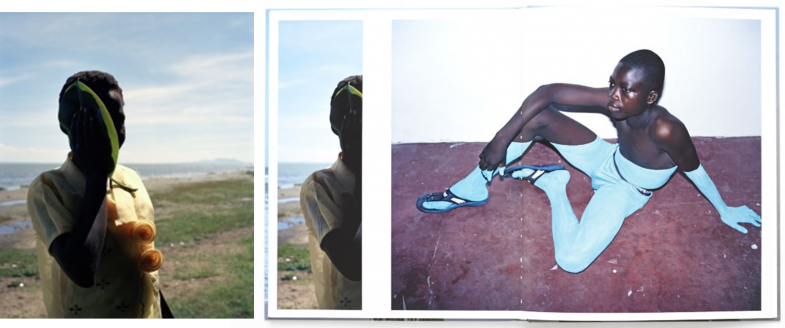 Other artists acquired for the stairways on RCCL/ Allure  of the Seas where among others:Carlos Aires,Øystein Aasan, Julie Blackmon,Kristian Evju,Frances Goodman, Maria Ikonomopoulou,Kimsooja, Susanne Kriemann, Friedrich Kunath, Deborah Ligorio,Jehad Nga,Carmen Perrin, Catherine Poncin, Fin Serck-Hanssen, and Fiona Tan.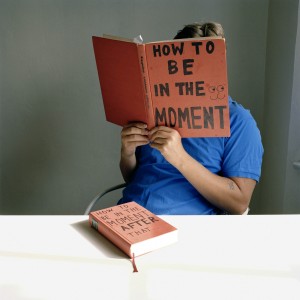 Friedrich Kunath,  " How to Be In The Moment"  represented by BQ_Berlin  http://bqberlin.de/BQ-Berlin.html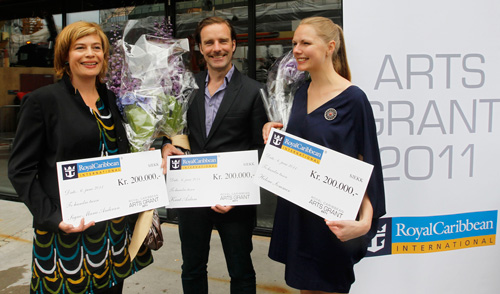 June 2011:The 6th of June three Norwegian artist where awarded  the RCCL Arts Grant, at a ceremony at Vulkan in Oslo. 200 000 NOK where granted to each of the artists. Congratulations to Signe Marie Anderen, Helene Sommer & Knut Åsdam http://www.youtube.com/watch?v=tByLrk67G9w http://www.youtube.com/watch?v=1SwicvMJPSo http://www.youtube.com/watch?v=Vd6mP_RW0uY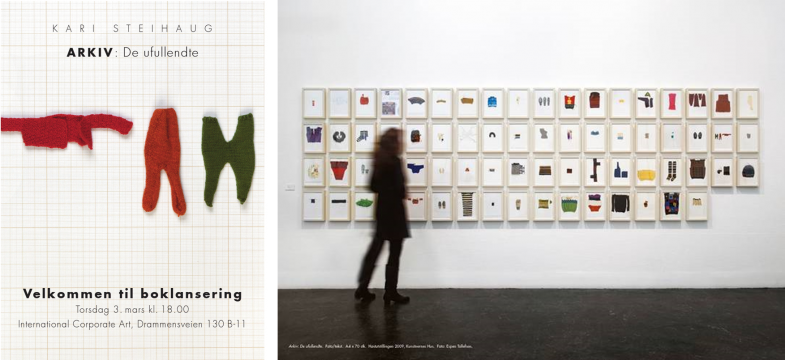 I organized the booklaunch at ICArt for Kari Steihaug's Archive : The Unfinished Ones. The book consists of a selection of unfinished knitwork, collected by Steihaug , with a small text describing who- what- where. The project is ongoing, and if you posess an unfinished knitwork, please get in touch for an inclusion in the archive! www.karisteihaug.no
.

Back in 2008 Solstice, the first of a series of newbuilds for Celebrity Cruises where delivered. One of the especially commissioned works where Tom Sandbergs 4 large glass panels for the Solarium which I had the pleasure to develop.With his intriguing photographes of Clouds as a starting point for the project, through many tests and considerations, they where screenprinted on glass and installed onboard. A true ethereal feeling.
For the Oceanview Cafe Dutch artist Eelco Brand made intriguing videos and photographic prints. Check out this other commission he made for Gemeente museum Den Haag.http://www.youtube.com/watch?NR=1&feature=endscreen&v=cd61kyoWl5s  The Solstice Art Collection includes  a long list of prominent contemporary artists. There are Works on Paper by Ross Bleckner, John Baldessari, Katharina Grosse, James Turrell, Robert Rauschenberg, Bill Beckley, David Hockney, Michael Craig-Martin and Tacita Dean. Photography by Adam Fuss, Steve McCurry, Hiroshi Sugimoto, James Casebere, Eve Sussman, Marie-Jo Lafontaine, Damien Hirst, Nils-Udo and Uta Barth amongst others. Sculptures by Jim Dine, Igor Mitoraj, Istvan Lisztes, Herbert Hamak  and Michael Parekowhai are spread throughout the public areas. In addition to Eelco Brand there is  also video art by Neeta Madahar. Works on Paper where selected for the Elevator Lobbies by artists such as Olafur Eliasson, Axel Hütte, Richard Long, Thomas Struth, Christiane Baumgartner and Roni Horn.What a pleasure to work on this project!

On the following ship in Solstice Class; Equinox, Tone Bjordam was commissioned to make videos for the Oceanview Cafè http://www.tonebjordam.com/dynamic-fluids.html