Left Image :Emmeline De Mooij
Thanks to my initiative after my entusiastic encounter with hybrid fashion collective Painted, Margreet Sweerts just visited Oslo. We had 4 inspiring Golden Joineries at my temporary Art & Vintage space, with students from Oslo National Academy of Arts, Oslo and Akershus  College of Applied Science , in addition to special invitees from the design and fashion world. Margreet Sweerts also gave a lecture about Painted at HIOA, about her and Saskia Van Drimmelen 's body of work. Golden Joinery is new brand that among other things queations the meening of "value", and the development of the brand happens through the Golden Joinery gatherings. I'm looking forward to the next chapter!  Painted: http://www.freudenthalverhagen.com/?proj=1029  & www.facebook.com/pages/Painted-Series/186636284716954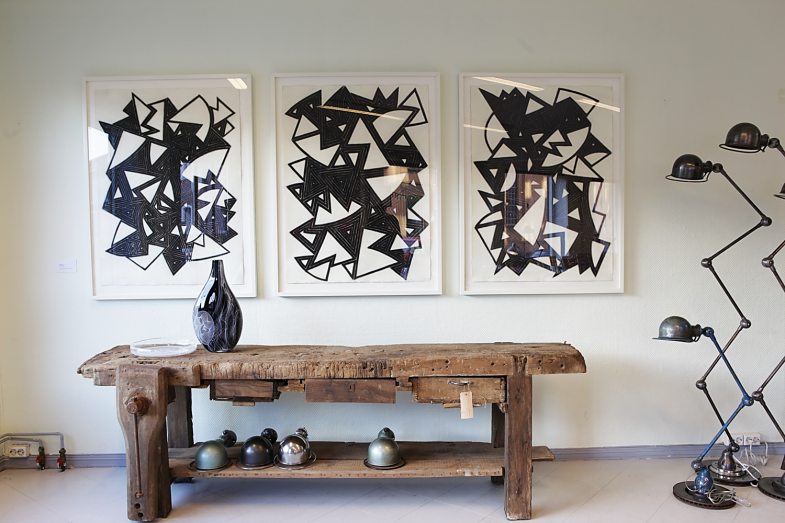 Contemporary Art & Vintage Bric à brac. I have just started a space which is both a gallery and a shop: I will show Contemporary Art together with French vintage c/o Nina Banggren. Hopefully this playful way of displaying art will reach a wider audience than the one that normally finds its way into art galleries. The space is situated at Maridalsveien 9, just a roundabout away from Vulkan, an area that have been under construction the last years and hosts Mathallen http://www.mathallenoslo.no/?lang=2  among other things. On the picture there are works on paper by Karl Hansen and  glass by Vidar Koksvik. The space will be open until end December, mostly weekdays 10.00- 17.30; weekends 11.00- 17.00https://www.facebook.com/pages/Contemporary-Art-Vintage-Bric-%C3%A0-brac/739265296086896

Corporate Headquarters, Oslo. Photography : Espen Tollefsen Office  landscapes migh challenges in connection to sound, concentration,orientation and privacy. At these Corporate Office Headquarters, Photography has been used to fill the requirements of universal design, and as an added value has created new rooms for concentration and  hopefully :  inspiration!
Whoever decides what the book of the year is: this is the book of the year! Content follows form, form follows content. Sirkelsalme: Monica Asbrong: Graphic Design: Aron Kullander-Östling : and also a concert : Maja Ratkje: :http://ratkje.no/2013/08/sirkelsalme-til-betlehem-til-jerusalem-en-konsert/
Seen at  Unseen: A highlight at Unseen Photo Fair was the studio visit to long time favourite Viviane Sassen.  For the 55th Venice Biennale International Art Exhibition, The Encyclopedic Palace, Viviane Sassen presents Lexicon, an installation of 30 prints. In Amsterdam she is part of the current exhibition at Huis Marseille, in addition to having made a special work for this years Unseen book cover.

Sascha Weidner/Conrads

 In the spring I participated in a Golden Joinery arranged by Painted, a fashion/design collective led by Fashion Designer Saskia Drimmelen and Theater Director/Designer Margreet Sweerts. http://www.paintedseries.com/  Each participant had to bring a broken garment to be repaired with golden thread and materials, inspired by the old Japanese technique Kintsugi, where they repair broken ceramics with golden paint, thus making the repair visible instead of hidden.I brought my favourite blue sweather inherited from a friend's mother to work on, giving it a new and prolonged life. Through Painted's workshops they are encouraging " an alternative "broken is better than new" aesthetic — that a conspicuous, imaginitive repair actually adds value —  aiming at a more hands-on, repair-friendly culture ". More events will be organized in various places with different people, thus spreading the news and creating a collective brand: Golden Joinery.

Ted Noten,s  "Wanna Swap Your Ring" , was at Format in Oslo, in connection to From The Coolest Corner
http://www.coolestcorner.no/ The installation consist of 500 Miss Piggy rings, all placed within the imaginary contours of a handgun. Spectators can obtain a ring made by Noten, by replacing it with an old one of theirs. I know Ted Noten from when he was commissioned to make a piece for Color Fantasy back in 2004 ; his "Mermaids Luggage" is now sailing Oslo- Kiel on a daily basis.  On the sister ship Color Magic, Co ffe Cups Wall in Porcelain are in the Private Dining Room. http://www.tednoten.com/
Just a perfect day , drink Sangria in the park . And then later when it gets dark, we go home to O Facho Guesthouse. https://www.facebook.com/pages/O-Facho-Guest-House/  Photo's : Michel Vaerewijk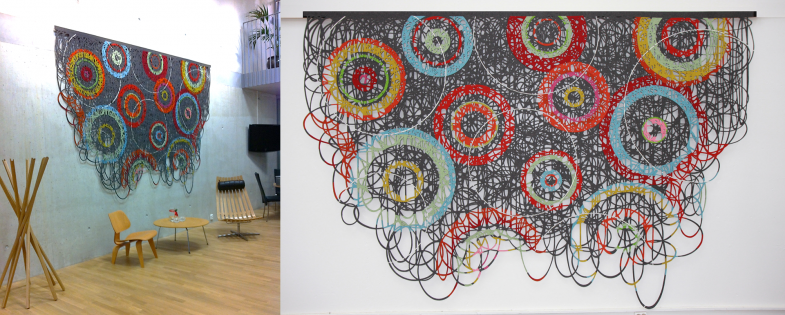 May Bente Aronsen, Resonance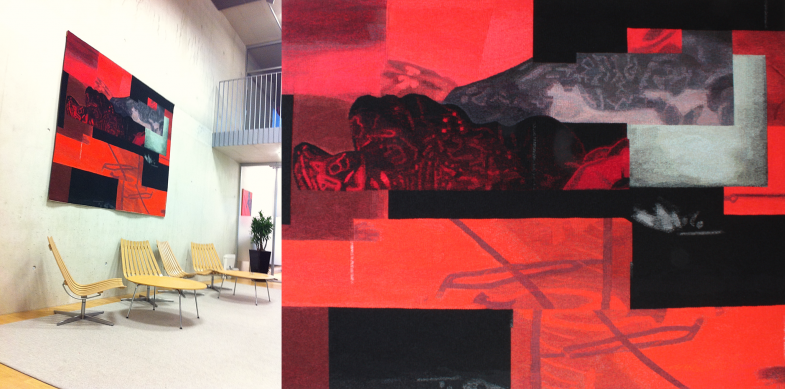 Ingunn Skogholt, Fragile Energy I  At R6, the new Government building in central Oslo,  by architects  Narud Stokke Wiig, these two works have found a temporary home : Resonance  by May Bente Aronsen  at the Ministry of Agriculture and Food and Ingunn Skogholt's Fragile Energy I , at the Ministry of Health and Care Services.
I got so jealous seeing this: his lost & found collection is much larger than mine, despite many many years of collecting  and bringing home from all over the world: Gabriel Orozco/Sandstars at Guggenheim/ New York http://www.designboom.com/tag/gabriel-orozco/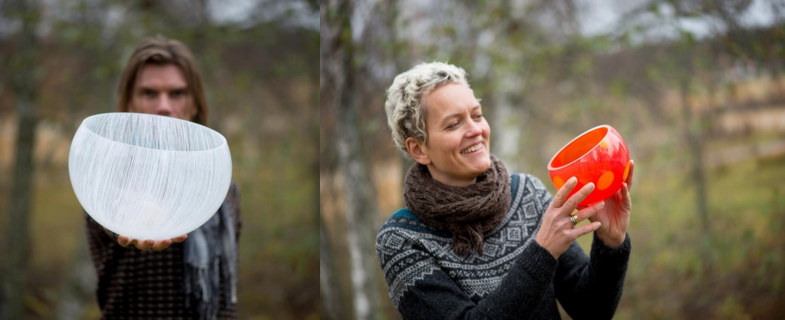 Kari Håkonsen & Vidar Koksvik http://klartglass.no/  are celebrating their 10 first years at Tjura with an exhibition at Kunstbanken, Hamar until January 6th 2013.http://kunstbanken.no/utstillinger_1/ Check out their retrospective show, which also includes works by their assistants.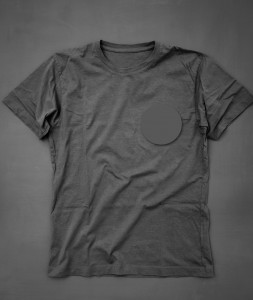 Else Marie Hagen ,  her newest work can be seen at Kunstnerforbundet until October 28th. http://www.listen.no/image.php?pid=16496&nummer=70461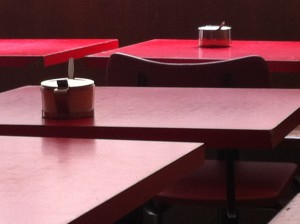 Keep things simple : Helsinki Bar
Tomás Saraceno : Diving into the intricately fascinating woven Black Widow's web – built of ropes consisting of 23 000 knots.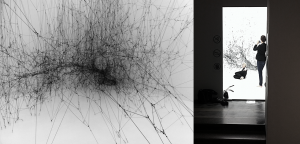 There are still a few days left to catch Gerhard Richter Panorama at the Centre Pompidou http://www.centrepompidou.fr/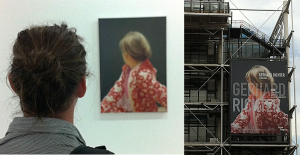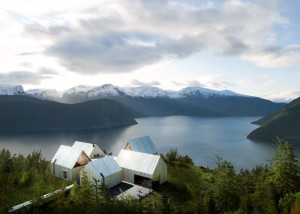 Check out De Zeen magazine's focus on contemporary architecture in Norway: http://www.dezeen.com/tag/norway/?utm_source=Norway&utm_medium=Special%2Bfeature&utm_campaign=RHS

Don't miss it ! http://www.munch.museum.no/content.aspx?id=170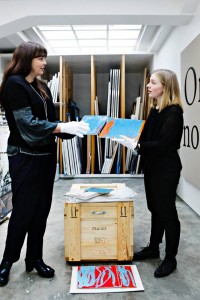 At OSL Contemporary with Solveig Lønseth. Pastels by Sofie Berntsen Aftenposten 06.05.2012 http://www.aftenposten.no/bolig/Hjelp_-hvordan-moblere-veggen-6821211.html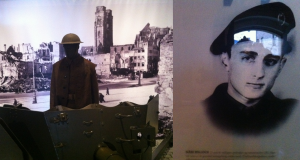 INTOPS , which just opened at the Defence Museum has been created & designed by architects Einar Hjeldnes & Julia Yran at Key Arkitekter http://www.keyarkitekter.no/  in cooperation with artist Guri Dahl.The various spaces in the exhibition have been divided using container walls , placed on the wavy wooden floor, thus dividing the various themes.Displayed are a mix of historical elements , photography, text , video and sound. Containers have also been used to expand the exhibition space into the court yard of the Museum. I was involved in the uniform part of the exhibition, refreshing my old skills as a decorator.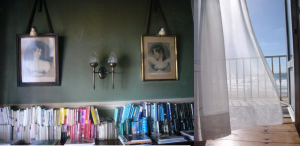 Soon time to go down and color coordinate the leave behind books again at my Favourite O'Facho Guesthouse in Foz Do Arelhohttps://www.facebook.com/pages/O-Facho-Guest-House/251647273586
Exhibition of the Week in London according to Time Out Magazine: Juan Muñoz at http://www.frithstreetgallery.com/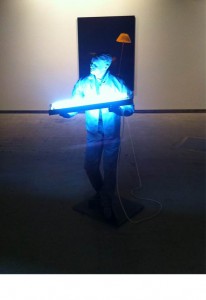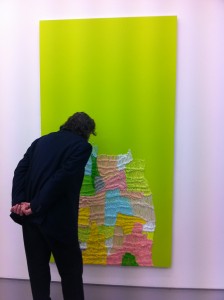 Katrine Giæver just opened her exhibition Handmade at Galleri Riis http://galleririis.com/exhibitions/110/
Exciting to see her new body of work: brave, energetic & tactile
April 2012:
Check out Ann Cathrin November Høibo at Henie Onstad Kunstsenter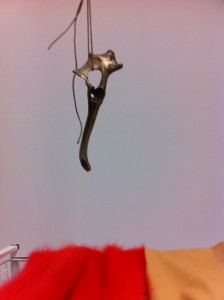 http://www.hok.no/ann-cathrin-november-hoibo.5019569-30551.html
February 2012: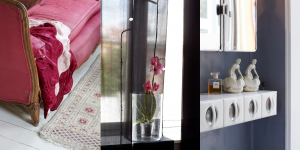 The apartment in Elle Decoration this month beautifully photographed by Elisabeth Aarhus. http://inspirationalspaces.blogspot.com/2011/12/returning-to-art-fascilitator.html  Elle Decoration
guttormsgaard ARKIV: 25. 26. feb. 3. 4. mars 2012
Russian prisoners work in the German concentration camps in Norway 1941-1945.537 objects: birds, toys, instruments, decorated wooden and tin boxes etc.
http://www.obs-osv.com/Blakerprosjektet.html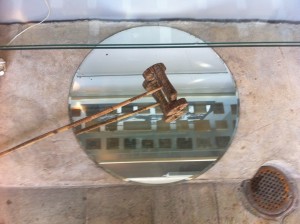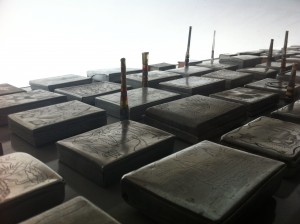 Art Rotterdam 2012 http://www.artrotterdam.nl
My favourites at the fair where Robin Rhodes work " 36 Ways A Dice can Roll/ Dice"  shown at Fons Welters http://www.fonswelters.nl/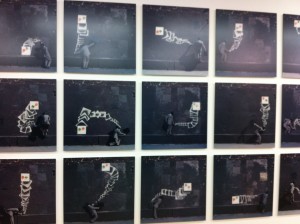 Gabriele Beveridge at  http://www.rodbarton.com/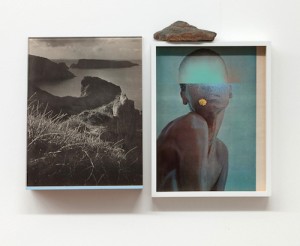 Very interesting studio visits to Katarina Zdjelar and  Wendelien van Oldenborgh organized by Art Rotterdam : thanks!http://www.youtube.com/watch?v=l6-cmZBDzUQ
Also invited  to MVRDV architects; got an interesting introduction to their work and philosophy of the office : looking forward to visiting DNB NOR new headquarters opening this summer .http://www.mvrdv.nl One of my favourites new buildings in Amsterdam when going with Steven's Alu was to my surprise designed by them :http://www.mvrdv.nl/#/projects/028silodam and ofcourse LLoyd hotel & Cultural Embassy http://www.lloydhotel.com/
Additional side events:http://www.rawartfair.com/

Highlight of RAW: the soup in the provisory cafe in the vast rough industrial space.
Re-Rotterdam http://www.rerotterdam.com/  presenting among others Maria Ikonomopoulou http://www.mariaikonomopoulou.com/ with her work: 'Myths in Critical Times'
She is one of the artist highlighted in the latest issue of Elephant http://www.frameweb.com/magazines/elephant
Art & Craft: An Embroidered Web;Margherita Dessanay discusses the use of embroidery in contemporary art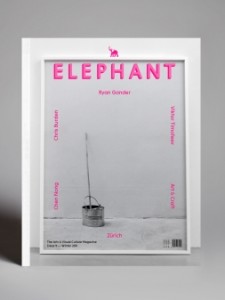 Passing Amsterdam and Galerie Rob Koudijs: intriguing jewellery by Finnish artist Terhi Tolvanen.
http://www.galerierobkoudijs.nl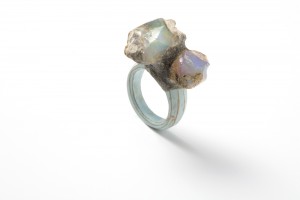 Ring made of painted wood, cement, Opal
January 2012 in London: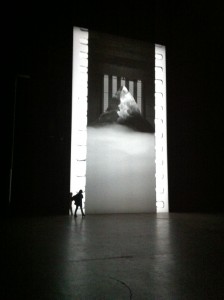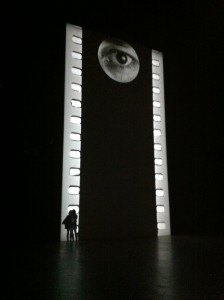 Tacita Dean / Tate Modern/FILM
http://www.tate.org.uk/modern/exhibitions/unilever2011/default.shtm
Tacita Dean/ Nils Borch Jensen Galerie has made offsett prints from this project:
http://www.berlin-kopenhagen.de/kuenstler.html?&L=1
Visited Future Map , an exhibition of selected students from the University of the Arts London at the Zabludowicz Collection.
Great Art Space in the old Methodist Church  in Cambden.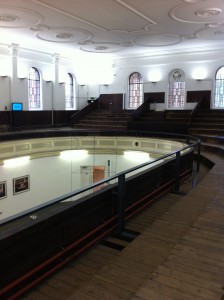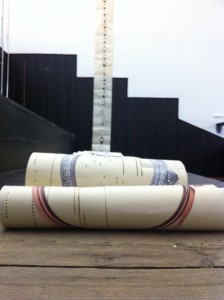 Holly Stevenson Swiss Roll,2010
Spring is here: David Hockney
http://www.royalacademy.org.uk/exhibitions/hockney/about-the-exhibition/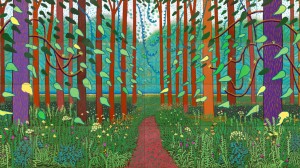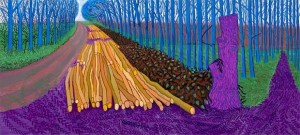 December 2011: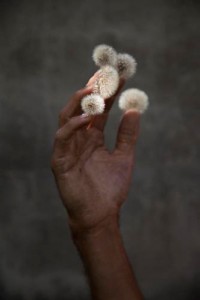 Just saw this intriguing image by Elspeth Diederix while sourcing art for my newest project.
http://www.elspethdiederix.com/
Congratulations to Norsk Medisinaldepot AS  with the inauguration of their new office and storage building at Alf Bjerkes vei ,Oslo.
Architect: Niels Torp Arkitekter www.nielstorp.no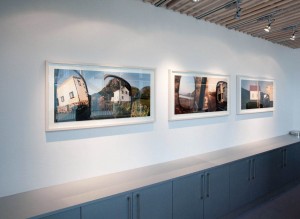 Reception, Photographic Print on Paper. Artist:  Espen Tollefsen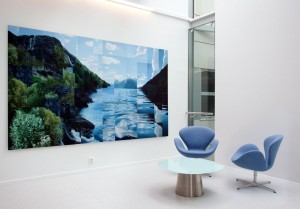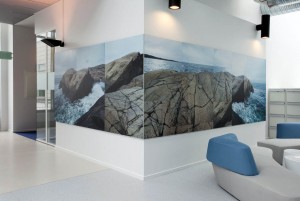 Photographic Print on aluminium. Artist : Espen Tollefsen
November 2011 in Paris:

Paris Photo: got the catalogue with Viviane Sassen's work on the  cover.
3 of her works from the series Flamboya was sourced for RCCL/ Allure of the Seas, among these "Leaf".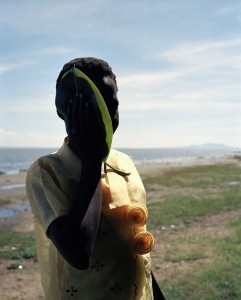 Viviane Sassen was also one of the selected artists for  the  New Photography 2011 show at Moma.
http://www.moma.org/interactives/exhibitions/2011/newphotography/
Other artists acquired for the stairways on RCCL/ Allure  of the Seas where  among others:Carlos Aires,Øystein Aasan, Julie Blackmon,Kristian Evju,Frances Goodman, Maria Ikonomopoulou,Kimsooja, Susanne Kriemann, Friedrich Kunath, Deborah Ligorio,Jehad Nga,Carmen Perrin, Catherine Poncin,Fin Serck-Hanssen, and Fiona Tan.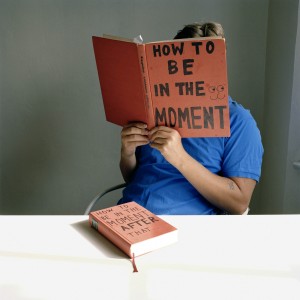 Friedrich Kunath,  " How to Be In The Moment"
http://bqberlin.de/BQ-Berlin.html
October 2011  in London :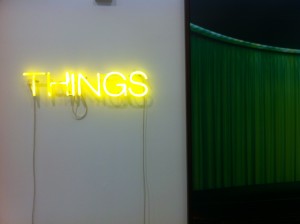 Goverment Art Collection, Selected by Cornelia Parker www.whitechapelgallery.org
"This display of over 70 works, hung from floor to ceiling in a kaleidoscope of colours, offers an original and personal selection by artist Cornelia Parker on the Collection's breadth and function.
Titled after a well-known phrase used to remember the colours of the rainbow, the display includes works from across the colour spectrum."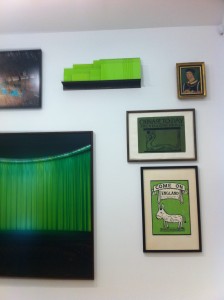 June 2011:
The 6th of June three Norwegian artist where awarded  the RCCL Arts Grant, at a ceremony at Vulkan in Oslo.
200 000 NOK where granted to each of the artists. Congratulations to Signe Marie Anderen, Helene Sommer & Knut Åsdam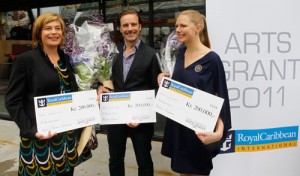 http://www.artsgrant.no/video_sma_2011.html
http://www.artsgrant.no/video_hs_2011.html
http://www.artsgrant.no/video_ka_2011.html
May 2011 :
Delivery of TUI/ Mein Schiff 2
From the Surf& Turf Restaurant featuring paintings by Marius Martiniussen: http://tuicruises.com/mein-schiff-2/restaurants/surf-und-turf/
Was so lucky to be invited to Art Athina 2011 http://www.art-athina.gr/wp/
Visit to the New Acropolis Museum http://www.theacropolismuseum.gr   
Designed by Bernard Tschumi Architects of New York/Paris with Michael Photiadis of Athens as local associate architect.
Onassis Cultural Center showing the exhibition Polyglossia: http://www.sgt.gr/en/programme/event/207
Great  behind the scenes / preview of the exhibition:ARRRGH! Monsters in Fashion organised by the cultural organisation ATOPOS http://www.atopos.gr/ at the Benaki Museumhttp://www.benaki.gr/index.asp?lang=enhttp://www.youtube.com/watch?v=pafUy_t8c5c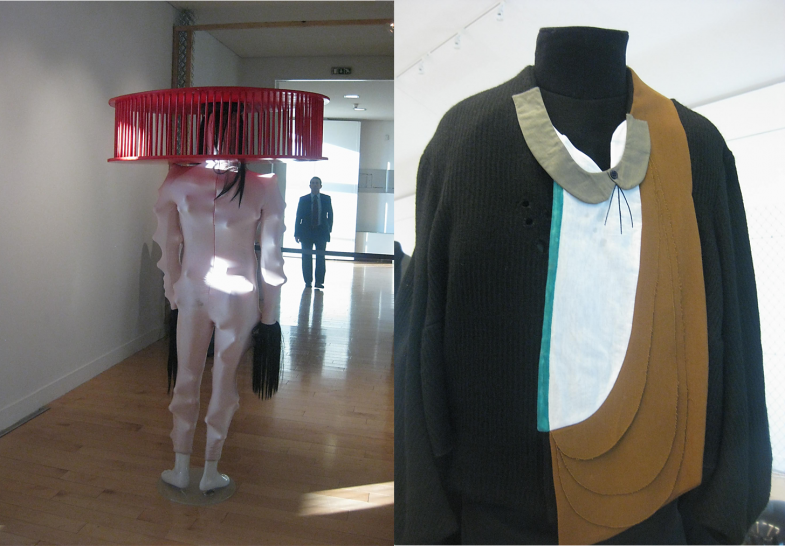 Andrea Ayala Closa
March 2011
Booklaunch at ICArt for Kari Steihaug's Archive : The Unfinished Ones www.karisteihaug.no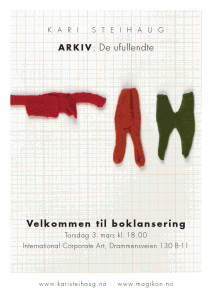 Love Dutch Design: one of the many favorites is Hella Jongerius : here from her large retrospective at Museum Van Boijmans.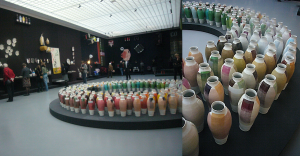 http://www.boijmans.nl/en/7/kalender/calendaritem/326/hella-jongerius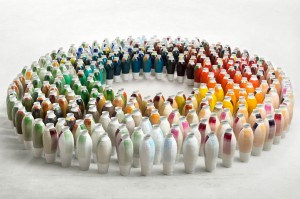 The Boijmans experience starts already in the foyer with Wieki Somers wonderful playful Merry-Go-Round Coat Hanger

On another Rotterdam occasion  studio visit to Studio Makkink & Bey was on the program:

http://www.studiomakkinkbey.nl/
Back in 2008 Solstice the first of a series of newbuilds for Celebrity Cruises where delivered.
Some of the especially commissioned works where Tom Sandbergs 4 large Silkscreen on Glass panels for the Solarium. A true ethereal feeling.

For the Oceanview Cafe Dutch artist Eelco Brand made intriguing videos and photographic prints. Check out this other commission he made for Gemeente museum Den Haag. http://www.youtube.com/watch?NR=1&feature=endscreen&v=cd61kyoWl5s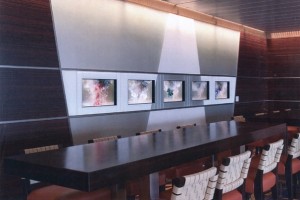 On the following ship Equinox, Tone Bjordam was commissioned to make videos for the spacehttp://www.tonebjordam.com/dynamic-fluids.html